Rechargeable Batteries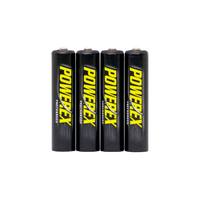 2016 ANNOUNCEMENT:
IMEDION 2400mAh AA have been superseded by the Powerex Precharged 2600mAh
IMEDION AA ARE NO LONGER AVAILABLE
A common problem with rechargeable batteries is that they need to be recharged about once every three months, even if they are not used. Maha tackled this issue by developing advanced electrode materials to reduce the rate of power loss during storage. As a result, they released IMEDION batteries, tested to retain up to 85% of its charge even after one year of storage (at a room temperature of 20 deg C). Maha's recent release of POWEREX PRECHARGED uses this same low self-discharge technology, but has increased the capacity to 2600mAh.
Never reach for your camera again, only to find the batteries have gone flat since you last used the camera.
Low internal resistance makes them ideal for use in hiigh power devices such as external camera flashes.
Low discharge rate also makes them ideal for lower drainage devices such as TV remote controls, where the discharge rate makes normal NiMH batteries inappropriate
Can be recharged up to 1000 times
POWEREX PRECHARGED batteries can be charged in any Maha Powerex battery charger or any other NiMH battery charger
2600 mAh capacity is now the highest capacity low discharge battery on the market.