Lighting Accessories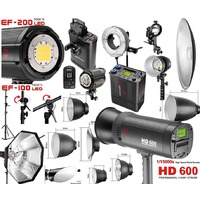 We carry an extensive range of studio lighting accessories to shape and soften light and a broad range of accessories to mount and support lights and cameras.
Light modifiers include rectangle and octagon softboxes for studio lights and speedlights, scrims to soften sunlight, light tents for product photography, folding reflectors, beauty dishes, snoots, grids, and fresnels to focus light and reduce light spill, and gels to add a wash of colour to the subject or background.
Support accessories include light stands, C-Stands for larger loads, boom stands to get over the top of your subject, background stands to support muslin backdrops, paper rolls, or vinyl backgrounds, high view stands for high perspective photography, offset arms to place a second light off to the side, a range of clamps, arms and spigots with 1/4" and 3/8" threads, and dollies to smoothly move your camera for dynamic movement in video, or to relocate lights around your studio space.