LCD Viewfinders & Loupes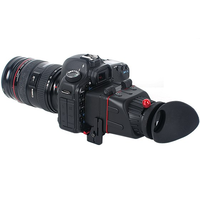 There are many reasons for needing an LCD viewfinder and or loupe when shooting video with your DSLR. One thing is for sure, shooting with a shallow depth of field requires real accuracy when focusing and one tool that helps you with this is a dedicated viewfinder. If you've ever shot outside in sunny conditions and tried to compose your shot straight off your DSLR LCD screen, you'll know the challenge of getting your focus right.

When you're relying on getting the shot to make an income, you want to be 100% sure that you get useable footage. Varavon's range of LCD view finders offers you a high quality, well designed product for those looking to take their video footage to the next level. Unique and innovative design elements like the flip down feature on the Varavon Multi Finder to assist when shooting in low mode, or the fast and secure mount/dismount ability make Varavon's products easy and enjoyable to use everyday.

Varavon's viewfinders and loupes aren't just for the DSLR shooter either. With dedicated units for the Panasonic GH2 and GH3 Varavon again show that they are in touch with industry and market trends, offering great products for a wide range of users.

Varavons range of sliders, jibs, DSLR cages and viewfinders give you the tools you need to stand out from the competition.


Check out the below overview of Varavon's Multifinder UNI universal viewfinder.