Spider Holster Hands Free System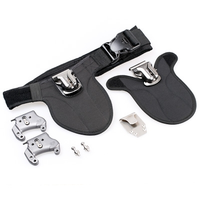 The hero of the Spider Holster range is the SpiderPro Single system. Designed specifically to help photographers support their often heavy pro DSLR/lens combos with comfort and ease, giving you a completely free upper body. The exceptionally clever design also allows the user to support their camera with a speed light fitted- something many other holster type systems struggle with. The SpiderPro single system comprises an ergonomic belt, the stainless steel (and beautifully finished) holster, the all metal plate and the metal securing pin. The SpiderPro is available in both single and dual configurations.
What really impresses us is the attention to detail that the team at Spider Holster have gone to. The allen key you use to attach the plate to your camera, and the pin to the plate, fits snugly away into the actual plate itself. So you never have to worry about losing the allen key when you're in the field and need to make a quick change to your set-up. The way you remove the camera from the holster is really elegant too, it's an intuitive 15 degree movement of the metal release trigger and the camera is instantly ready to go. When you put the camera back into the holster you get a reassuring metallic "click" as the pin passes the one-way release. If you enjoy good design (and even if you don't), the Spider Holster will be a joy to use.
We've made noise about the benefits of non-strap camera support systems before and we have to say that the Spider Holster system is really out in front when it comes to capacity, quality and design.